The Hamilton Lodge was a black gay social group that held extravagant drag balls in Harlem, New York, in the 1930s. Prohibition put an end to the Hamilton Lodge drag formals at the Rockland Palace on West 155th Street.
New York's drag balls were given national exposure by the 1990 documentary "Paris is Burning." Harlem's gay scene was well known before Prohibition, and Hamilton Lodge was one of the foremost venues for the area's thriving LGBT community. Artists who supported Harlem's gay community during the 1930s included Tallulah Bankhead.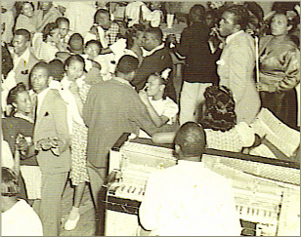 "You had a large majority of drag queens and what we now call gender-queer pushing the boundaries," says Hael Fisher, who is relaunching the Hamilton Lodge drag balls. "And you had a lot of white onlookers who came up from the West Village to be a part of this."
The Rockland was torn down in the 1960s and the site became a car park.